Senile Freckle (Lentigo Senilis)


   The most common sunspot. Laser treatment is the first choice for this type, though topical bleachers are needed to prevent recurrence. The spot that has come out for years might need multiple sessions. The followings are the treatments for this spot.
     Q-switched laser                       
  This laser treatment will show scabs that last for 1 week. A week later the scab will peel off with the lasered spot.
                  from ¥3,000〜
   Intense Pulsed Light(IPL)
        IPL, with its numerous brand names, is a kind of light that is free of harmful kinds such as ultra violet. This device can treat freckles but not as strong as laser. The downtime is just few redness that will not last long. It is applicable to the whole area of the face skin for the treatment of not only spots but also redness from vascular problems. BBL(Broad Band Light) and FotoRF Aurora are the brands available in our clinic. BBL has more power than FotoRF.


 BBL can treat skin wholly and mildly
                                ¥2,000〜
   Tretinoin + Hydroquinone Treatment
        Tretinoin is a weak acid that peels off the keratin(old skin) at the skin surface stimulating the turn over of the skin to the newer layer 2 times faster than the regular process. In this event, hydroquinone, a strong whitening substance, can function easier and faster to eliminate the discoloration. This treatment is good for spots that is not treatable with lasers or for those who are not comfortable of using laser devices. This is also a good remedy to prevent recurrence or side effects after using lasers.
                           ¥6,400〜
    Other Treatments
       Highly absorbable vitamin C & E lotion and oral prescription, topical and oral           transamenic acid, ionic and sonic massages, and chemical peeling are also             available as whitening regimen.
                       ¥1,000〜

Inborn Freckel(Ephelides))


   Inborn freckles are usually hard to erase but can be lighten up with whitening treatment. IPL, Q-switched laser, and other whitening remedies can be used in the same way with senile freckles. (See above for details.)
                            ¥3,000〜
Melasma

  Melasma seen on skin of Caucasian descent might be treatable by lasers and IPL. But on Asian, African-American, or Latin-American skin, treatment with devices might worsen the color. So with these skin types, tretinoin and hydroquinone regimen is the main whitening course, combined with other topical and oral substances. Melasma's specific cause is not clarified yet, but it is believed to be associated with female hormone activity. As long as the hormones are active, melasma will never go away. So the mentioned treatment is just to lighten up discoloration.
                         ¥6,400〜

Seborrheic Keratosis


  Usually occurs on forehead or temple showing its protruding wart-alike appearance. Can be easily taken by erbium laser or CO2 laser.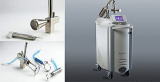 Sciton's erbium laser
                                                                             ¥4,000〜
Skin Tag (Acrochordon)


   Skin tag is a benign fibroma(fibrous tumor) that is said to appear on aged skin. Usually seen on the neck, eyelids, armpit, etc. Laser abrasion with erbium or CO2 is effective. (See erbium laser picture above)
                          ¥4,000〜
Acquired Dermal Melanocytosis


   Dermal melanocytosis shows birthmark-like dark-colored appearance that can usually be seen on upper cheek or forehead skin. It is important not to diagnose it as melasma because this type of discoloration is treatable with Q-switched laser,  though takes longer time to see a satisfying effect.

Q-switched laser
        \4,000〜
Nevus of Ota


   Nevus of Ota is an inborn mark that is usually seen around the eyes and forehead. Q-switched laser is the treatment of choice but takes sessions and time.

Q-switched laser
         ¥4,000〜
Brightening Set
  This set is a combination of the treatments stated above plus the aesthetic regimen for skin care such as chemical peeling, ionic/sonic massage, and prescription of topical and oral medication. Treatment will take at least 5 sessions, once a month, and this may last for 6 months. This a total care of face whitening including mole and vascular lesions removal.

Skin Brightening Set:What's in the menu
                     \75,000~         
このページの先頭へ