Acne Care
   Japanese-health-insurance-covered and noncovered cares are available. Combination of both is prohibited by the Japanese law.

 Japanese Insurance Covered Care
  ・topical and oral antibiotics――to kill acne bacteria or to inhibit growth
  ・vitamin B2 and B6―― to prevent excessive sebum secretion
           These are the main acne cares available under the insurance coverage.

 Insurance Noncovered Acne Care
  ・Intense Pulsed Light(IPL)――to kill acne bacteria, to reduce redness                              and sebum secretion

BBLbroad band light(strong IPL)

 IPL works not only in epidermis but also through the dermis part
            ・chemical peeling――to remove pores clog and reduce sebum
           ・skin tightening laser――to tighten pores and reduce sebum
           ・highly absorbable vit. C & E――introduced by ionic & sonic massage
           ・anti-male hormone pills――to prevent excessive sebum
                         ¥3,000〜
       Acne Care Set


  This set is a total acne care done with the combination of the services stated above. 1 session in every 2-3 weeks until healing process is appreciated within 3 sessions. 4th thru 6th sessions will be once a month. The total treatment might take for as long as 6 months.
  The combination of treatment from outside and inside treats not only the acne inflammation but also good for reducing skin redness and also prevention of another break out.
       ¥50,000~



Acne Scar Care

 Different kinds of laser are used to improve the appearance of acne scars.
  Laser Skin Resurfacing
    Skin resurfacing laser shaves the skin in micro levels as deep as the dermis. The downtime takes longer because of its aggresive abrasion. It takes 1 week to dry up the lasered area, and redness lasts for 4 to 7 weeks depending on the depth                 of the treatment.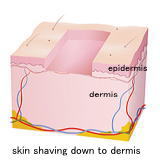 ¥10,000
      Fractional Laser
           This laser digs micro dots on skin as deep as resurfacing or more.Even if it is deeper the redness lasts only for 3days for the shortest or 1 week for longer healing. The microholes stimulate skin regeneration, resulting in more collagen production that is capable of improving acne scars.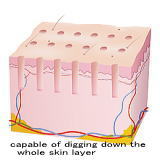 ¥5,000~
        Micro Laser Peel

          This laser is just for peeling the epidermis but still deeper than chemical           peeling. More redness is seen compared to chemical procedure but the level is more even because of its computerized laser shots. Usually combined with fractional.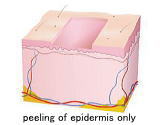 ¥5,000~
       Acne Scar Treatment Set
          This total acne scar care is done with sessions of lasers stated above and is combined with other skin care medicine and laser. The treatment is done once a month, and might take a year to slowly see the improvement of acne scars.
                     ¥80,000~
このページの先頭へ