Skin tightening should be done with the device that owns the latest technology. And
Picosure
, the latest picosecond laser, has it. Its
Fractional
technique just happened to be the talk of the whole world.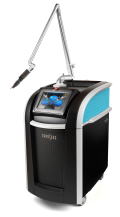 Picosure is the most popular
picosecond laser
that works in picosecond level, emitting laser 1000 times faster than the traditional nanosecond ones such as Q-Switched laser.
     Picosure has the
Focus Lens Array
handpiece that performs the fractional procedure.

Focus Lens Hanpiece
     This lens redistributes the laser beam into a high-and-low-power manner, and by this effect micro changes inside the epidermis occur, which is called LIOB(Laser-Induced Optical Breakdown), an event that causes the dermis to activate its collagen and elastin production. This fiber's mass production revives the skin tightness and improves smoothness of wrinkly areas.
     The actual treatment: