Chin Enhancement
   Chin enhancement effect is observed mostly on the side view of the face. Using silicone prosthesis(implant) is the common procedure. Lately, using long lasting injectable fillers is also the trend. Performing this procedure with nose enhancement is more effective in capturing the ideal E line(esthetic line), the straight line that connects tips of the nose, lip, and chin.
        Enhancement with Silicone prosthesis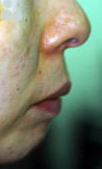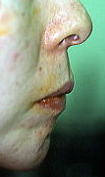 The same material used in nose enhancement is also available for chin plasty to enhance a less developed chin bone. The approach is made inside the oral cavity so that a scar cannot be observed on the surface.
                     ¥240,000

                 

        Radiesse Injection



  Radiesse, a long lasting injectable, is an alternative for surgical procedure. It is a filler made of gel that consists calcium-based microspheres which activate skin collagen production. Radiesse gel is firmer than Restylane, a feature that makes it more capable of shaping the desired shape, but not as competent as the silicone prosthesis. For few minutes of introducing of the gel you can see a more-enhanced appearance of your chin. Lasts for about 2-3 years.

                                    ¥20,000  
Restylane(Hyaluronic Acid)
          Not as firm as prosthesis or Radiesse, but capable of shaping the chin profile for few minutes. Lasts for less than a year.

                         ¥20,000〜
Rhinoplasty(Nose Enhancement)


 Enhancement with Prosthesis(Implant)
Enhancing nose contour by silicone implant is more effective at the root of nose. To obtain a more enhanced side profile, nasal tip enhancement must be done with L-shape type prosthesis. To avoid nasal tip deformities in later years, bigger tip proshesis is not advisable. Cartilage transplant is much safer for this part.
                                 ¥240,000


 Radiesse or Restylane
    These fillers are also possible choices for nose lift but not so competent at the nose tip
                               ¥20,000


 Cartilage Transplant
    A suitable method for enhancing nasal tip. Autologous cartilages are taken from the auricle, nasal septum, or other parts of the body.
              ¥180,000~
Forehead Enhancement
    Protruding forehead is considered as an esthetic factor in the orient, while in western countries it is not a common demand because of its commonness on face contour. It is similar to a lifted nose, which people in the orient are desiring because of its rarity on people's faces..


Fat Injection(Lipoinjection)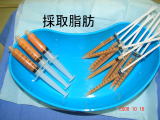 Stem-cell-rich autologous fat is injected to the forehead. The abdomen and thigh are best donors of suctioned fats. Usually injected fats will reduce to half within months, so another session may be needed. Some part of the fats may stay intact permanently.
                        ¥150,000
             Radiesse or Restylane
                 For few minutes you can see an augmented forehead with this                procedures but not permanent.
                                     ¥40,000

            Silicone Prosthesis
               This procedure is not performed in our clinic because its cosmetic outcome after years is not that good. Edges of the implant might become obvious on the thin skin of this part of the body.


FRONTAL VIEW
Ideal frontal view:

frontal's vertical length equally divided into 3 parts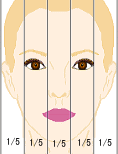 horizontal length divided into equal 5 parts
Forehead Enhancement + Rhinoplasty + Chin Plasty


  Adjustments by these 3 procedures(already mentioned above) draw you closer to the ideal 3 equal vertical divisions of the frontal view. 


                                   ¥20,000
Inner & Outer Canthoplasty


  These procedures widen eyes horizontally giving them more shares on the facial horizontal width. Excess skin folds at the inner and outer ends of the eye are removed to show the hidden part.                          
       ¥90,000
Alar Reduction


  Wider nose that occupies the most part of the middle portion of the face interrupts equality of the facial horizontal width. Reduction of flared nose alar portion is the focus of this problem. 'Inner method', which scar ends within the nasal cavity, and 'outer method', which the wound extends out to the outer side of the alar, are the 2 approaches performed in reducing the flared alar portion. The later is mostly done for cases which demand obvious effects.


                                       ¥150,000
Reduction or Enhancement of Submandibular Angle


  This facial part, which is located at the outermost fifth of the division, is another part, like the nose, that shows different demands in western areas and in the orient. Western patients like to have more enhanced angle to show more confident face, while in Asia, square-looking faces are undoubtedly not likened. Osteotomy(bone cutting) of the angle is an effective method , but recently, using Botox to reduce the hypertrophic masseter muscle. For enhancement, silicone prosthesis or injectable fillers are available.
    Botox Injection
         Besides being so popular with its use in facial expression lines, Botox is also a treatment choice for reducing masseter muscle on the mandible angle. With a few seconds of treatment, less emphasized mandibular angle is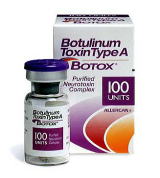 acquired temporarily from 4 to 6 months.
                                         ¥6,000~

Liposuction of the Cheek(Mini Lipo)


  Another method to reduce the outermost fifth of the face. Fat hypertophy at the anterior portion of the lower cheek is also an issue for Asian people. Liposuction is still the first choice of this small part. Mini lipo can be done for 10 minutes.
                            ¥100,000~
Temple Enhancement
    A hollow temple shows aging appearance. Younger people, even how thin they are, usually shows temples fully packed with muscles. Decreasing muscle volume through aging process usually cause this issue. Silicone prosthesis was the only remedy before even it might show disturbance in late years, but this days, filler injections or fat injections are the choices.

                             ¥30.000