This procedure is injection of fats to the depressed part such as sunken cheeks and eyes. The abdomen and thigh are best donors of fats to inject. Usually injected fats will reduce to half within months, so another session may be needed. Some part of the fats may stay intact permanently.
  Mild and moderate hollows around the eye require only few injection. Hyaluronic acid is more convenient, may last for almost a year.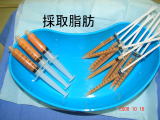 ¥100,000〜



 A procedure using one's own fat tissue suctioned from other parts of the body. Over half of the injected fat will vanish, so enormous change is hard to achieve. A few times refill is needed within half a year if drastic changes are needed.The remaining fats may stay permanently. Large voume injection might cause adverse effects such as calcification and infection. 
                                   ¥200.000~