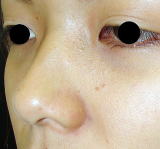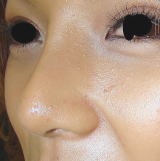 Enhancing nose contour by silicone implant is more effective at the nose bridge.
I shape
and
L shape
are the choices. To avoid nasal tip deformities in later years, I type is the suitable choice for thinner tip skin.  
  Soft tip implant is also available. Nose tip is an area that is so sensitive to pressure that sometimes might cause skin thinning especially in later years when skin fats are decreasing. So softer and thinner implant is advisable to be used to this part.
   If enhancement of the tip is the main concern, silicone implant has limited effect,
Nose Tip Surgery
(stated below)is recommended to this problem. It is effective for thinning and enhancing the tip area.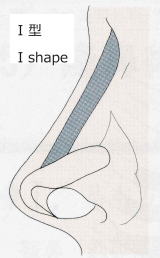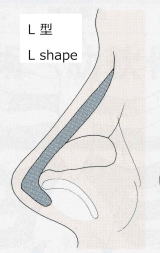 Wounds for approach are made inside the nose, so scars are not noticeable. Stitches are removed 1 week later. Since implant surgery involves nose bridge area which is aboundant with blood vessels, swelling and bruises sometimes become obvious. They might subside as early as a week later,but usually might stay until 2 weeks if bruises are severely observed.
  Pricing(10% tax not included)                                     

| | | | |
| --- | --- | --- | --- |
| | | | |
| Implant Nose Enhancement | I shape | \240000 | |
| | L shape soft implant | \270000 | |
| | | | |
As an alternative for filler injection
, Y-ko Spiral Thread for nose lift is the latest trend in nonsurgical rhinoplasty. Threads are introduced by a blunt cannula to avoid tissue damage which is sometimes observed in filler injection. The thread is dissolvable within a year but is changed with newly generated collagen that can maintain the nose contour for a while.   
   Y-ko thread has the
nose ridge
and
nose tip
use types.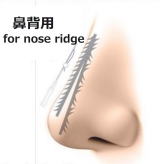 For nose ridge use, it is about 60mm in length, enough to enhance and narrow the nose from the bridge down to the tip. One thread is not enough to see a noticeable effect, At least 2 threads are needed.
 A spiral thread is inserted inside a blunt cannula beforehand, so that it is possible to just introduce it with one small needle point. The needle point is made usually at the tip skin, but also possible to hide it inside the nose.
  Done usually under local anesthesia. Swelling is less, like a filler injection.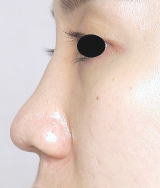 nose ridge Y-ko BA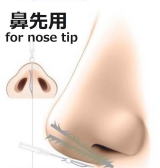 Nose tip thread is about 40mm, introduced into the columella(nose part between tip and philtrum) to push and lift up the tip. Needs at least 2 threads to see an effect.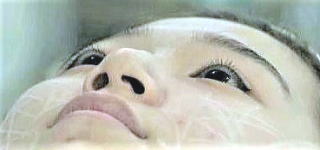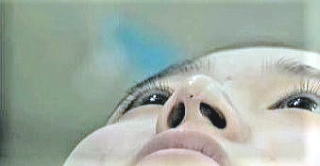 nose tip Y-ko BA
   Combining the ridge and tip Y-ko to treat nose hump and droopy tip is also possible.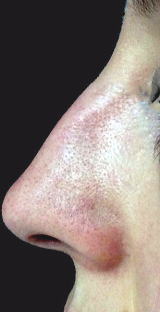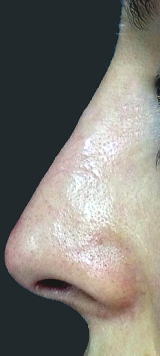 Using the short tip Y-ko threads at least 2 each on the bridge and tip gives you a straighter ridge contour within minutes. Of couse, the more threads the more you see better effect.
  Y-ko thread advantages to filler injection include:
 ・avoids skin necrosis(death)
 ・avoids visual defect
 ・solid thread gives stable effect
  Disadvantage:
 ・not permanent
   Why not permanent thread? It is already proved in thread lifting procedures of cheeks(from where this nose procedure derives) that permanent thread causes troubles such as infection, noticeable thread rim, and other skin issues.
Pricing (10% tax not included)                                        
| | | | |
| --- | --- | --- | --- |
| | | | promo |
| Y-ko Thread Rhinoplasty | 1thread | \20000 | |
| | | | |
| | | | |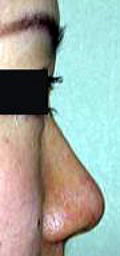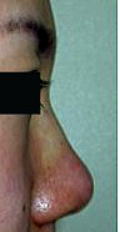 Besides its broad usage in wrinkle repairs, hyaluronic acid (HA) filler has been also used for enhancement of face contour, not to mention the nose. Hyaluronic acid is one of the main elements of the skin together with collagen fibers. Juvederm and Restylane are the main brands of HA fillers. Usually last for a year.
   However, recently, clinics that are recommending HA filler for a lunch-time nose lift is significantly decreasing due to serious concerns caused by the substance. When injected to the nose, fillers sometimes by chance enter into blood vessels and clog them that subsequently may induce skin necrosis(death) and visual defects.
  Furthermore, since HA is a soft gel, it easily spreads to its nearby area, the reason why days later it cannot hold a firm nose contour, allowing the patient to inject more and more for thinner nose ridge, till the spreading gel forms a not-so-thin big nose bridge, the appearance which some describe it as the nose bridge that resembles that of the main characters in the movie 'Avatar'.
  Still there are individuals who love to do HA for nose lift. If this is the case, using blunt cannula which has less chance of clogging the arteries is recommended.
Pricing (10% tax not included)                          
| | | | |
| --- | --- | --- | --- |
| | | | promo |
| Juvederm | VOLUMA 1syringe1.0cc | \50000 | |
| | VOLIFT  1.0cc | \50000 | |
| Restylane |        1.0cc | \40000 | |
| |        0.5cc | \30000 | |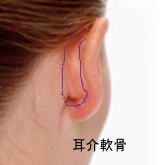 If artificial implant is not the choice, using autologous(self) cartilage is the tecnique to be done. Cartilage graft is harvested from ear auricle.
  In this procedure,
I type
graft for the ridge, and
tip graft
for the nse tip are the 2 types to be used, performed solely or simultaneously.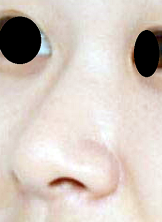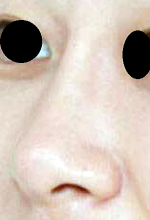 Cartilage graft enhancment has its advantages and, on the other hand, disadvantages. Its
advantages
include:
・autologous cartilage cannot cause rejection or severe infection
・even inserted tightly inside nose tissue, graft tends to blend and adjust   
Disadvatages
goes as follows:
・not enough amount to meet necessary graft volume
・particularly ridge part tends to be crooked and correction is not as easy as silicone method
  Since ear auricular cartilage has limited amount, achieving a satisfactory enhancement is hard. And even if you have enough to create the desired contour, shape of the nose ridge part is not as smooth as silicone method, since cartilage graft surface is kind of rough and bumpy in its nature. So in this procedure, moderation in graft quantity is the key to a successful outcome.
  Tip graft, in contrast, is more reliable than silicone implant. Silicone is not gentle to nose tip skin tissue, the reason why excessive insertion of it is not advisable. But using a little more of cartilage graft does not do any harm, since it naturally blends and adjust itself to its surrounding tissue.
  Nose tip graft is usually done together with
Nose Tip Surgery
(refer to statement below). This surgery is to slim down bulbous nose tip, and adding cartilage graft to this can show more remarkable effect on tip enhancement.
   Cartilage graft transpalnt goes as follows: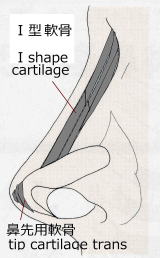 Nose ridge I-haped graft is made 2-3 cartilage pile
  Rectangular or diamond-shaped tip graft is a 3-4 cartilage pile inserted over alar cartilages
   Sugical approach wounds are done inside the nose, so no worries for noticeable outer scars. Stitches are dissolvable that require no removal. Plaster tape compression is needed for 4-5 days, so washing and make-uping can be resumed after this.
   Pricing (10% tax not included)                                     

| | | | |
| --- | --- | --- | --- |
| | | | |
| Cartilage Transplant Nose Enhancement | I shape graft | \240000 | |
| | tip graft | \150000 | |
| | I shape+tip | \300000 | |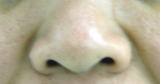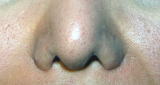 A procedure to tuck together cartilages in the nose tip to
slim down bulbous tip
part. In our clinic, approach incision is usually done in '
close method
', which scar is limited within the nasal cavity not to be seen from the outer part of the nose.     
   For more enhancement of the tip, combination of cartilage transplant is recommended.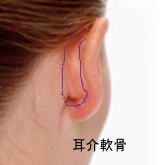 actual cartilage from auricle
  Postsurgically, no stitch removal, there is tape compression to secure tip form. After tape removal, usually swelling is not that noticeable. If it is, covering it with make-up is easy because wound scar is inside the nose.
  The actual procedure:

securing space over alar cartilage

suturing alar cartilage

reduction of alar cartilage

if needed cartilage transplant from ear auricle
Pricing (10% tax not included)                                      

| | | | |
| --- | --- | --- | --- |
| | | | |
| Nasal Tip Surgery | | \240000 | |
| | +ear cartilage transplant |  +\50000 | |
| | +nose bridge implant |  +\100000 | |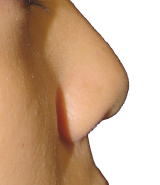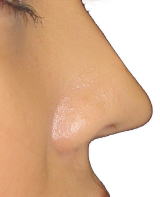 Even with an implant, tip thinning surgery, or ear transplant, if the tip is still not elongated enough, Septum Elongation Surgery is the procedure needed. Septum is the cartilage found at the middle of the nose that divides both nostrils. By extending the length of this structure with a cartilage, uplifted nose tip can be elongated down more than other techniques.
   In this procedure, autologous(self) cartilage from part of the septum or from ear auricle is used.
  Actual treatment in diagram: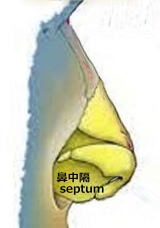 septum cartilage in the mid of nose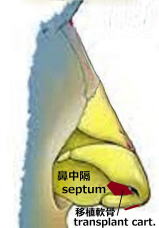 transplanted cartilage on frontal edge of septum
   Needs 5 days of cast taping to secure the form, after tape removal covering with make-up already possible if swell and bruises are not that obvious which is usually the case. If noticeable, a period of 2 weeks might be needed.
Pricing (10% tax not included)                           
| | | | |
| --- | --- | --- | --- |
| | | | |
| Nose Elongation | | \300000 | |
| |  +nose bridge implant | +\100000 | |
| | | | |


   A method to fix 'witch nose'. Cartilage of the nose septum is trimmed inorder to raise up the droopy tip. Incision is done inside the nasal cavity.
   This is an opposite procedure of septum elongation, which is actually the
shortening of septum
. Cutting off the septum's edge usually is not enough, so reduction of the alar cartilages which is done with nose tip thinning should be performed together.
   The actual remedy in diagram: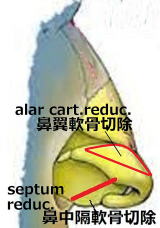 septum shortening & alar cartilage reduction
    The healing process is almost the same with Nose Tip Surgery( Nose Tip Thinning) which needs 5 days of cast tape. After tape removal, make-up is already okay, no stitches are to be removed.
    Tip elevation sometimes needs additional cartilage transplant at the base of the colummela (the thin part between the tip and philtrum), inorder to enhance the relative uplifting of the tip.
Pricing (10% tax not included)                                    
| | | | |
| --- | --- | --- | --- |
| | | | |
| Nose Tip Elevation | | \250000 | |
| |  +colummela cart. transplant | +\50000 | |
| | | | |


   '
Inner method
', which scar ends within the nasal cavity, and '
outer method
', which wound extends out to the outer side of the alar, are the 2 approaches performed in reducing the flared alar portion. The later is mostly done for cases in which obvious effects are necessary.
   However,
Inner Method
shows a subtle effect which is not unnaturally noticeable, the effect that mostly is the demand of the newer generation.
   Actual treatment in diagram:
      Inner Method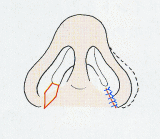 Outer Method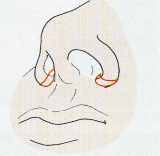 Alar Reduction does not need any skin undermining or flapping,so swelling is usually is not an issue. Taping might be needed for the outer method, but can be removed the next day, stitches will be out on the 7th. Redness of outside wound might stay for a while which might subside the earliest on the 2nd month, the latest on the 3rd, but coverable with make-ups.
Pricing (10% tax not included))                                       
| | | | |
| --- | --- | --- | --- |
| | | | |
| Alar Reduction | inner method | \160000 | |
| | outer method | \180000 | |
| | | | |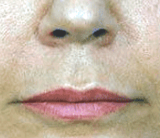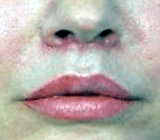 Philtrum Reduction or Lip Lift is the shortening of the width of the space in between the nose base and upper lip to minimize the image of a longer face or to revitalize looks of the aging.
   Especially with the youth today in Japan who are apt to pursue small faces or the trend of fuller lifted upper lip are really making this procedure more popular than ever.
   The actual treatment diagram:
     As shown below, a 5mm width of the skin under the nose is removed, then skin flapping or undercutting is performed downward to exposed the orbicularis oris muscle which is to be retracted in the upward direction. Then, skin is closed.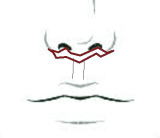 Lip Lift is done with skin and muscle flaps, so obvious swelling is anticipated widely down to the upper lip. If swelling is severe, it might be noticeable for a week, and the remaining mild puffiness might stay until the 2nd or 3rd week. Stitches are removed on the 5th, make-up is already okay on the 6th day.
   Needs months for the redness of wound to subside, but covering with make-up is capable of hiding it. Afterwards it turns into a whitish scar that is not noticeable enough because it blends to the sorrounding skin but not completely going away.
   This procedure includes skin removal, so it is not reversible. And upper lip that shows gummy smile is not a good candidate for this technique.
   Similar effect can be achieved by injecting Botox and filler on the upper lip but temporary. Botox relaxes the orbicularis oris muscle while HA filler lifts the upper lip up, which effects last from 4 to 6 months. It is a good advice to do this injectables first as a simulation before undergoing the irreversible one.
Pricing (10% tax not included)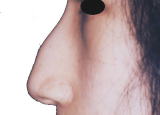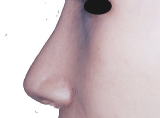 A procedure to surgically shave the bump on the nasal bone to obtain a straighter nose profile. Wound incision is done inside the nose so scarring is not an issue with this method.
    Non-surgical hump treatment is also the latest trend. By ibtroducing dissolvable threads inside the nose bridge and tip give a straighter nose line but not permanently.
   The actual hump reduction process involves shaving of the nasal bone part at the upper side and cartilage part of the lower side of the bump.
  The actual shaving :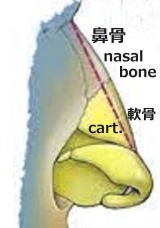 Cartilage part is reduced by using a scalpel and surgical scissors, then the bone part is done with surgical chisel and file to effectively shave the firm solid part of the hump.
  Nasal bone is rich in blood vessels that postsurgically acquires secure 4-5 days of tape compression to prevent severe swelling and bruises. Swelling might stay 1-2 weeks,if bruises is noticeable around the eye parts, more than 2 weeks might be necessary to recover. Make-up is already applyable beginning the 6th day. No stitch removal is needed because dissolvable sutures are used.
  If the nose contour is not straight and thin enough with just hump shaving, an additional
silicome implant
might be needed to enhance the narrow and straighter profile of the nose ridge,
Pricing (10% tax not included)                                     

| | | | |
| --- | --- | --- | --- |
| | | | |
| Nasal Hump Reduction | | \250000 | |
| |  +silicone implant | \100000 | |
| | | | |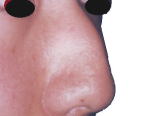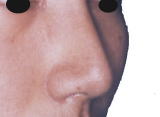 Thicker nasal bone is fractured on both sides to narrow its wider frontal shape. Usually performed with the hump shaving(see above) to obtain a straighter profile.
  Procedures mentioned above can sometimes or mostly be performed just under local anesthesia, but osteoplasty must be performed under
general anesthesia
because nasal bone is rich not only in blood vessels but also in pain nerves.
   The actual treatment in diagram: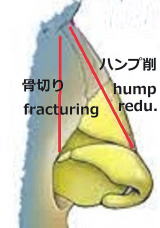 After
hump reduction
,
nasal bone
is
cut and fractured
at the base, then press in the mid direction to narrow its shape. Bleeding might sometimes be observed in this process but stops with just simple compression during surgery.
   Cast compression should be longer than that of just a hump shaving, approximately 1-2 weeks might be needed. Swelling and bruises usually extend around eye structures so 2-3 weeks of noticeable swelling might be observed.
   This procedure alone might be done independently, but usually bulbous nose tip is also a concern in this case. So
Nasal Tip Surgery
is often combinedly done with this. And if the contour is not detailed enough, then silicone implant's help might also be necessary.
Pricing (10% tax not included)                                      
| | | | |
| --- | --- | --- | --- |
| | | | |
| Nasal Osteotomy | | \300000 | |
| |  +silicone implant | +\100000 | |
| |  +nose tip surgery | +\100000 | |
| |  +ear cart. transplant | +\50000 | |
  。general anesthesia  \50000
---
---