Liposonix The Newest Ultasound Technology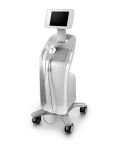 PROMOTIONin progress!
Liposonix
is
  a system that uses high-intensity ultrasound energy that focuses on the targeted fat, destroying fat cells beneath the surface layers of the skin.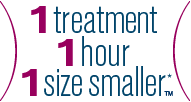 is what you get.
The treated fat tissue is removed through the body's natural healing and elimination process, leaving you with a thinner, more contoured bodyline.
Treatment areas:
  Mostly abdomen, and 2.5cm or more of fat layer that can be touched on waist part, thighs, hips, and arms.
The ultrasound energy focuses in the 1.5cm depth level from skin surface. 1.0cm of layer below this level is necessary to let the device work.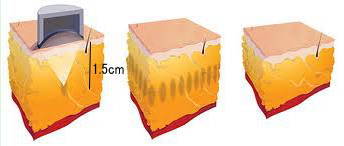 Results
:
 Every individual has different result. In a clinical study, 1 treatment gives an average of 2.6cm(1 inch) decrease in size. This outcome started to be observed 3 weeks later, then finally became noticeable after 2 to 3 months.
During Treatment
:
 Discomfort, cold, prickling, tingling, or warmth sensation might be felt. Premedication is available if needed.
Safety
:
 About 300 patients have undergone lab tests after 3 months of treatment and no abnormal level of fats and other substances were noticed.
Contraindications
:
 Subcutaneous fat layer below 2.5cm
 pregnant or maybe pregnant
 hernia, wounds, or infection on the area
 the facial parts
Treatment Sizes:

 The handpiece size, which is 4.5cm by 4.5cm, is 1 area. Treatment part size is calculated by counting how many areas are there on it. 1 area needs about 4-minute treatment. (Details of areas in every part are stated below)
Treatment scene:

Abdomen, waist, thighs, buttocks, arms are treatable.
 4.5cm×4.5cm areas on each part:      abs 6〜15areas  
                       waist 1 side 2〜3
                       thigh inner 1 side 3〜6  
                       outer 1 side  3〜6
                       buttocks 1 side   3〜6  
                       arm 1 side   2〜4
Before/After: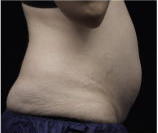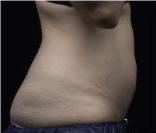 "少ない脂肪、より多い効果! Less is more !"
 大腿内側 inner thigh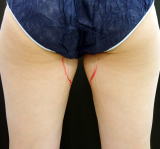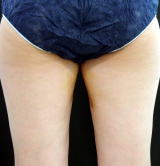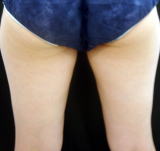 照射前before       1週後 1 week       4か月後 4 months
 "Less is more !"
 下腹 lower abdomen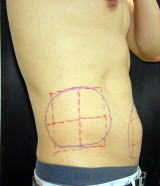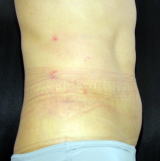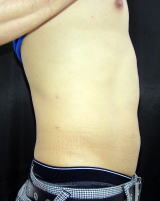 照射前before       1週後 1 week       2か月後 2 months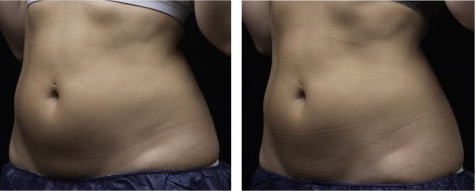 Injection Lipolysis (Mesotherapy)
    Supplements such as phosphatidylcholine and carnitine, and also carbon dioxide are injected to fat tissue inorder to stimulate partial activation of fat metabolism. 1 session in 1-or-2-week period, 10 to 20 sessions is needed. The effect is limited.
                         from \10,000~

Liposculpturing Injection with Deoxycholic Acid
   Deoxycholic acid is one of the substances found in bile acid produced in the liver. This substance has the ability to melt and dissolve fats, and it is also proven that it has the power to
reduce fats when it is injected into the fat layer.
It is known to be the most effective fat-destroying sunstance available for liposcupturing procedure.
Having deoxycholic acid as its main ingredient, combined with the other 2 fat-melting substances which are L-carnitine and artichoke extract, the product called Kabelline is the latest popular one in the market.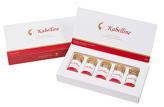 Treatment is done once in 1-2weeks, up to 6 sessions if needed.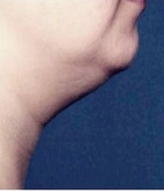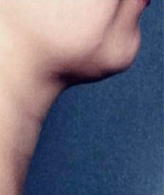 Kabelline treatment bef/aft


BNLS The Latest Liposculpturing Solution

                                                     BNLS is the newest fat removal method done by injecting natural substances that burn fats. Treatment will be performed from 1 to 3 sessions which are more effective than the previous method. Facial and body parts are best candidates for this remedy.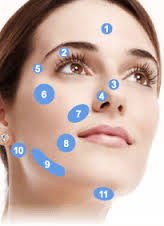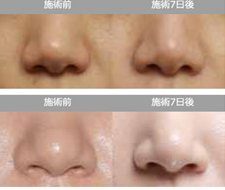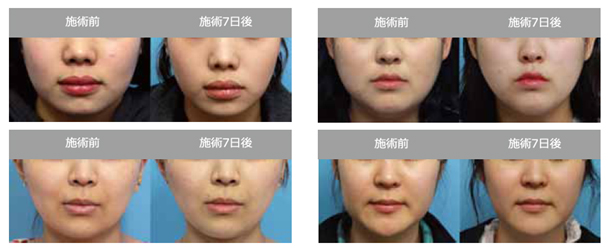 \8,000〜
Topical Lipolysis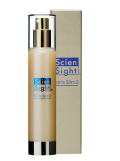 Using the same contents as the injection procedure, this 'just rub it on'diet lotion is said to be more effective than shots. Nanotechnology makes this procedure work in partial body care.
                   ¥9,400~

Diet Medication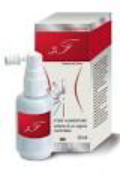 Diet pills are supplementary means to your diet program. Strong and fast effect can be observed if combined with partial liposuction surgeries. Spray-type diet medication is also available.
                      ¥800〜